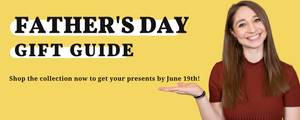 Father's Day Gift Guide 2022
Did you know that Germany and the US celebrate Father's Day on different days? In Germany, it falls on the same day as Ascension Day (Christi Himmelfahrt) - which this year was May 26th. In the US, it's always on the third Sunday in June. Which means you still have some time to get the dads in your life a Father's Day gift!
This year, I decided to make it easy for you and pick my top five gift ideas for Father's Day 2022. In Germany, it's common for fathers (and all men really) to go on a hike or just stroll around with their buddies on this day while enjoying a bit of day-drinking! (Hence, the drinking-themed gifts 😄) If this isn't your style, just look around my shop I think anything on the shop would make a good gift, but I've selected these five as versatile and thoughtful present ideas.
Your dad likes beer? And you want to get him something really special this year? How about a personalized, authentic Bavarian beer mug? 🍺 I usually customize them with the name and Bavarian drinking phrases but if you have any special requests for Father's Day, you can put the text you want on the mug into the comment box with your order or send an email help@felifromgermany with your order number and your request! 😊
These beer mugs are the perfect gift to kick off the summer! They're the same mugs that we drink out of at Munich Oktoberfest, at beer gardens, and traditional Bavarian restaurants. To make this mug unique from the millions of other glass beer mugs out there, I created a design that is a mix of the "Feli from Germany" logo and features of a typical beer brewery label.
The personalized mug is only available as a 1.0L size but if that seems a little big, how about a 0.5L "Feli from Germany" beer mug?
(The delivery time for these varies depending on your location but if you order soon and are located within the US, the mug *should* arrive in time for Father's Day. Not guaranteed though.)
What says "dad" like a baseball cap? If there's room for one more in the collection, this original "Servus!" style would make a great addition.
The word "Servus" is mainly used in Bavarian and Austrian dialect and can mean both "hello" and "bye". I say it a lot to my friends and family at home and, of course, I always start my videos with "Hallo, Servus".
On this hat, the word is combined with an outline of the Cincinnati skyline that you might recognize from my channel logo. It comes in black, green, blue and white so there's plenty of choice to customize your gift.
This unisex T-shirt is the perfect present for an beer or Oktoberfest lovers. It's understated and unbranded - only those in the know will understand that "Oans, Zwoa, Drei G'Suffa" is Bavarian dialect for "One, two, three, drink!"
At beer festivals such as Oktoberfest, the band will regularly sing "Ein Prosit der Gemütlichkeit" and then have the whole crowd say this phrase with them after which everyone will clink their glasses and drink.

If this isn't quite the right T-shirt, I have a lot more designs to choose from. Check the rest out here!
If you want to gift someone in your life a useful keepsake, this bottle opener is the perfect choice! It's conveniently on a key ring and ready to use. And let me tell you, having a bottle opener on your keychain is such a game-changer! I've had one for years now and you wouldn't believe how often I use it and how often my friends want to use it too. Let's just say, it happens a lot!
By the way, Prost (cheers) is probably one of the most important German words to know. Remember to look each other in the eyes too while clinking glasses because in Germany it's considered bad luck (7 years of bad sex) when you don't! 😅
These Bavarian-style coasters are designed to look great under any drink. They come in 4 different designs, so you can get a whole set of the same design or pick one of each. They're printed in full color on thick, premium coaster board and cut precisely into a 3.7" circle.

All of the coasters say "Ein Prosit der Gemütlichkeit" around the outside. This is a song you will definitely hear inside of an Oktoberfest beer tent. "Prosit" is another way to say "Prost," which means cheers. And "Gemütlichkeit" means comfort. All in all, you're saying cheers to each other's well-being.

---