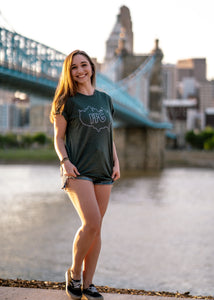 Hallo, Servus, and welcome to my shop!
I'm so happy you're here! :)

In the first half of 2021, I spent hours over hours designing, testing sample products, and setting up this shop and I couldn't be more excited to share this with you guys! A lot of you have been asking for merchandise for quite some time now but my goal was to give you something better than a simple logo on a low-quality t-shirt. Instead, I wanted to create products that YOU and myself would actually want to wear in everyday life, that are of good quality, and made with love. That's why all the pieces you'll find on here were designed and tested by me - I've worn them, washed them, and my "Servus" hat even fell into the ocean at Fort Myers Beach during my trip in May but it still looks great! In the picture on the left, which was taken at the Roebling Suspension Bride here in Cincinnati, I'm wearing this unisex t-shirt in my favorite color. I hope you guys like the products just as much as I do! :)
I recently added a KIDS COLLECTION that provides the perfect presents for any parents and their little ones! We have pieces for babies, toddlers, and also older kids. My favorite kids products are probably the "O'zapft is!" bib and the "Oma ist die Beste" t-shirt. It says "Don't tell Mama though" on the back!
Make sure to follow me on Instagram (@felifromgermany) and YouTube to have a say in the design of future products (I'm currently working on a "German words & idioms" collection). 😊

Alles Liebe,
Feli

P.S. A lot of the designs are based on my channel logo and the Cincinnati skyline design which were made by my amazing graphic designer Ireland Gennari. Check out her work here or shoot her an email!
Subscribe to my newsletter!
Join the FFG Newsletter to get exclusive offers and be the first one to learn about new launches, discounts, and other exciting updates!