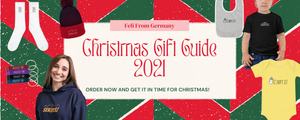 Christmas Gift Guide 2021 - Feli from Germany
This is your ULTIMATE gift guide for the 2021 holiday season! Just find the category that your loved one fits into, order one of our quality products, and it should arrive with enough time to wrap it and put it under the tree.
The Glühwein Drinker
As you guys know, I don't drink coffee…but the "Guten Morgen" Coffee Mug is perfect for any hot drink lovers. The small size (11 oz) would be the perfect gift for any Glühwein lovers – you could even wrap it up with a bottle of Aldi Glühwein and some oranges under the tree! I also love filling the large size (15 oz) with a milky chai latte or a whipped cream topped hot chocolate. We also have our "Prost" mug and our "Eine Tasse Kaffee Am Morgen" mug.
The Beer/Oktoberfest Lover
If you have anyone in your life who likes German beer, it would be a great idea to wrap up one of our O'zapft is! Unisex Hoodies alongside one of their favorite six-packs. "O'zapft is!" means "It's tapped!" - it's the famous phrase that the mayor of Munich says when they tap the first barrel of beer on the opening day of Oktoberfest. If a cozy hoodie isn't your style, then you could also try out the Ein Prosit der Gemütlichkeit! Unisex T-Shirt instead - this is a song you will definitely hear inside of an Oktoberfest beer tent. "Prosit" is another way to say "Prost," which means cheers. And "Gemütlichkeit" means comfort. All in all, you're saying cheers to each others well-being. 
The Punny One/The Podcast Listener
Do you have that dad or aunt that just can't stop making "punny" jokes? The "Understanding Train Station" Unisex T-Shirt is for them. "I only understand train station" is the literal translation of the German idiom "Ich verstehe nur Bahnhof" which means something along the lines of "I don't understand anything" or "It's all Greek to me." You could also get the "Understanding Train Station" Coffee Mug for anyone who loves to listen to the podcast with that same title I host together with my friend Josh. 
The One Who's Always Cold
Honestly, this one is me...you'd probably find me wearing this new "Servus" – Embroidered Pom-Pom Beanie in the middle of July in the American air conditioning. But it's NEW in the shop just in time for the long winter season! Not only will this comfy hat keep your ears warm, but it features one of our classic "Servus" designs. "Servus" is an Austrian and Bavarian dialect term which is used as a greeting - and I also say it at the beginning of every YouTube video.
The Kiddos
This category is super exciting, because for the first time we have a whole range of products for the little ones in your life! The onesies, bib, t-shirts, and baseball cap would be perfect for any kiddos with German heritage or a German-speaking family member. These are guaranteed to make the adults smile, while also being super practical pieces for your little ones' wardrobes.
Stocking Stuffers
If you're looking for something small to gift a friend or loved one, then I've got you covered...from coasters to stickers, there's really something here for everyone!
BOTTLE OPENER It doesn't get more practical than this "Prost" bottle opener, which my viewers have been using to open beer all over the world over the last few months. "Prost" is German for "cheers" by the way! Just choose the gift recipient's favorite color and you're all set.
STICKERS There's a huge variety of stickers on the site, including this German curse words cheat sheet or this beer garden phrase guide. For any language lovers, we have some German idioms translated into English like: "Holla the Woodfairy" (my personal favorite), "I only understand train station," and "Not the yellow from the egg." 
COASTERS These Bavarian-style coasters are designed to look great under any drink. Printed in full color on thick, premium coaster board, they feature four different Oktoberfest/beer tent inspired designs. 
BASEBALL CAP These are not only trendy, but practical. Check out this "Servus" printed baseball cap, which any one of your friends/family would definitely appreciate!
---